Halite protests over Lancashire salt cave gas decision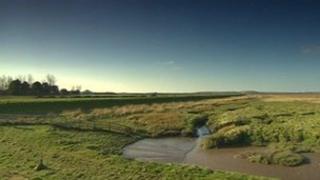 A gas firm has launched a legal challenge against the government after it was told it could not store gas in salt caverns under Lancashire.
Halite Energy Group wants to store up to 900 million cubic metres of natural gas in 19 purpose-built caverns at Preesall Saltfield.
The Department of Energy and Climate Change (DECC) rejected the application last month as it "failed to demonstrate the suitability of the site's geology".
Halite said the decision was "flawed".
The storage plans were previously opposed by Wyre Council and Lancashire County Council, which submitted a report saying the development would damage the rural and coastal landscape.
Chief executive of Halite Keith Budinger said: "Halite and its legal team believe that there are substantial grounds on which to demonstrate that the decision is flawed but as the matter is now the subject of legal proceedings do not intend to comment further at this stage."
Ian Mulroy from Protect Wyre, a group opposed to the plans said: "We have opposed this move for 10 years and still do.
"The company has not provided sufficient evidence that the saltfield will safely hold the gas, there are numerous cracks, faults and fissures and we do not believe it is safe."
Halite claimed the planned facility would create up to 3,000 jobs across the UK.