Gang jailed for £20K Ribble Valley copper wiring theft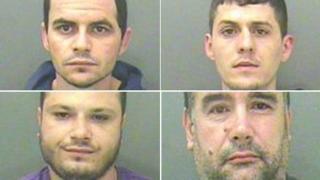 Five men who stole £20,000 worth of electrical cable and put hundreds of lives at risk in Lancashire's Ribble Valley have been jailed.
The men, all from Birmingham, pleaded guilty to conspiracy to steal at Burnley Crown Court.
Alexandru Beligan, 29, was jailed for six years, Mahai Antonala, 28, for four and a half years and Gabriel Predusca, 24, for three years four months.
Marius Avram, 49, and Alexandru Tudor, 21, received four years and two months.
'Highly dangerous'
The men were arrested in Staffordshire heading south on the M6 in a van and a car in July.
The van was found to contain more than a tonne of copper wiring, estimated to be worth about £20,000, which police said had been stolen from the Ribble Valley.
Det Sgt Kathryn Cussans said: "These thefts left hundreds of homes without power and were highly dangerous.
"By cutting into copper wiring, thieves are not only putting themselves at risk but they are risking the lives of the residents whose homes are connected to the power supply."
Lee Maxwell, Lancashire area manager at Electricity North West, said the sentences marked "a significant milestone in our plight against metal theft which is still badly hitting our region".
"These five men had stolen more than £20,000 worth of overhead power lines from the Ribble Valley and caused major disruption to our customers.
"Thanks to the successful partnership between Electricity North West staff and the Lancashire Constabulary these men were caught and brought to justice," added Mr Maxwell.