Blackpool's health: Life is short near the Golden Mile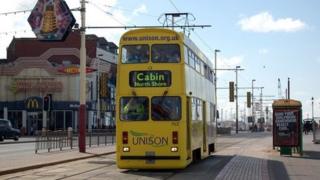 "If I drop dead tomorrow, I won't know about it… so I'm not bothered."
It's 11:00 and John McWard is on his second pint of the day. A self-confessed alcoholic, he appears resigned to his life ending prematurely.
The 67-year-old lives in Bloomfield, the poorest council ward in Blackpool and one of the poorest in England.
Just half a mile from the town's famous Golden Mile, men here can expect to live to just 71.7 years - seven years less than the UK average.
Blackpool's Public Health Annual Report 2012 reveals Bloomfield has the lowest life expectancy figure for men in England, 13 years less than in parts of the south east.
Behind the statistics is a complex picture of deprivation, which millions of tourists who come to the resort each year never see.
But, if life is short in Blackpool, the council is on a mission to tackle the town's severe health issues.
Public health director, Dr Arif Rajpura, calls it "one of the biggest health challenges in the country".
And top of his list is tackling the town's alcohol problems, with an aim to bring in a by-law to raise the minimum price of alcohol.
The bill last year for alcohol-related harm and violence, including police and NHS resources and lost working days, was £100m.
There is one licensed premises for every 72 residents.
A public consultation has just been launched on restricting opening hours. Dr Rajpura wants to ban pubs and clubs from opening after 03:00 BST.
"Without those measures, we're simply fiddling at the margins," he said.
'Losing their childhood'
Blackpool's ill health is not confined to alcoholism. The town also has a major problem with obesity, smoking and mental health.
Fylde psychotherapist Steve Pope estimates three-in-five families have a member with depression.
"We're losing the battle," he said. "We're dealing with some families where three generations haven't worked.
"It becomes interwoven in their way of life and can lead to addiction and depression."
Lancashire MIND, the mental health charity, is seeking funding to work with ten and 11-year olds in primary schools.
Team leader Samantha Wilkinson said: "They're children and they're losing their childhood. People will be shocked to hear that a 10-year old would contemplate suicide."
The health situation is compounded by seasonal unemployment and transience.
Dr Rajpura describes Blackpool as "a net importer of ill health" with "incomers" bringing problems with them, exacerbated when they fail to find work.
This wide range of deep-rooted issues has left an extraordinary discrepancy in terms of how long people can expect to live.
While men in the poorer, central areas of the town will reach an average age of 72, their counterparts just four miles north, in the Norbreck area, can expect to live a decade longer.
Blackpool women fare a little better but will still lose three years life expectancy compared to the national average - the third worst in the UK.
"That's incredible," said Dr Amanda Doyle, a GP in Bloomfield and the chief officer of the new Blackpool Clinical Commissioning Group, responsible for local healthcare.
"We're looking ahead 20 to 25 years to turn round the health of the town."
Health 'legacy'
Dr Doyle is part of a unique, bespoke health partnership set up to achieve that change.
Launched in 2010, 'Altogether Now - A Legacy For Blackpool' brings together the local NHS, the council and the football club, whose manager and players are lifestyle ambassadors, working in local schools.
"We include the word 'legacy' because it's about improving the health of the next generations," said Dr Doyle.
Outside Dr Doyle's medical centre on Bloomfield Road, Jeffery Carr admits his own effort at health improvement is happening a bit late.
Mr Carr is 47 and weighs 18 stones (114 kg). He has just stopped smoking, following his mother's death from lung cancer.
Fifty per cent of Bloomfield residents smoke.
Mr Carr has a range of problems, including emphysema, but is embarking on a six-week health programme, determined to change his lifestyle.
He said: "I know the life expectancy figure and I'm hoping to live to be 100. But the way I feel now, with my health problems, I'm looking to reach my mid-60s."
This, then, is the other side of Blackpool, the hidden story behind the Golden Mile.
Many of the town's in-denial smokers will tell you they do not believe the tobacco health warnings, and that "life's too short".
The stark truth is just that - in Blackpool, life really is too short.
The question now is whether the resort with the reputation as the home of entertainment can also become the home of better health.
BBC Radio Lancashire presents a series of reports on Blackpool's health from 3 to 7 June