Shisha bars must be regulated to prevent grooming, council says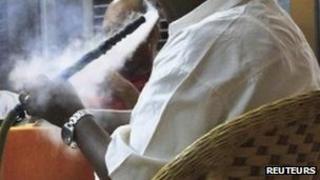 Shisha bars must be better regulated to protect young people from potentially being groomed by paedophiles, a Lancashire council has said.
Children as young as 13 have been removed from some shisha bars in raids by police and Blackburn with Darwen Council amid concerns they are at risk.
The number of shisha bars, which should comply with smoking legislation, has grown rapidly, the council said.
The fact that they are unregulated raises safeguarding issues, it added.
Chris Allen, head of protection at the council, said: "If you have got groups of young children unsupervised in premises that are locked and unsafe the potential for that [grooming] to take place is present.
'Detrimental' health impact
"Working with police we have removed girls as young as 13 and 14 to a place of safety."
Mr Allen said in recent checks none of the shisha bars in the area were complying fully with the law and current penalties for smoking in enclosed public places do not act as a deterrent.
The council has written to the government to urge it to bring in greater financial penalties and other control measures, including allowing police to put the bars under surveillance.
The council's letter to the government states: "We are concerned with some of the wide social risks emerging from the rapid growth of shisha bars and their use by young people.
"This council is concerned that shisha smoking has a detrimental impact on the health of those young residents who undertake this activity and, in addition, that there are potential safeguarding issues caused by the unregulated nature of some shisha bars."
Shisha is a water-pipe in which fruit-scented tobacco is burnt using coal, passed through an ornate water vessel and inhaled through a hose.