Dale Cregan: Court convoy risked lives says PCC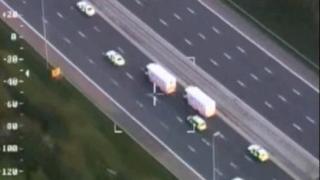 The lives of police and public were risked by Dale Cregan's daily trip from jail to court, Greater Manchester's Police and Crime Commissioner said.
Tony Lloyd said millions of pounds could have been saved in policing the trial if he had been kept in Preston jail.
Cregan was transported every day from the high-security HMP Manchester to Preston Crown Court.
The cost of policing the trial, to Lancashire Police and GMP, was £5.075m.
'Very angry'
Cregan received a whole-life jail term after admitting murdering PCs Fiona Bone and Nicola Hughes, and father and son David and Mark Short in gun and grenade attacks.
Mr Lloyd said a letter written jointly with GMP Chief Constable Sir Peter Fahy was sent to the Ministry of Justice and the Home Office saying that Preston should have had its security category temporarily reclassified to hold Cregan.
The operation saw a massive armed convoy and the police helicopter deployed on each day of the 18-week trial, with more than 150 police officers guarding Cregan and his co-accused on the 70-mile round trip.
"I am very angry that the good men and women of Greater Manchester and Lancashire Police, security staff and - most importantly of all - members of the public were put at risk by this operation, which was simply unnecessary," said Mr Lloyd.
"Let's not forget that Cregan's crimes included the murders of two police officers. Every minute this convoy was on the road there was a danger that another police officer could have been seriously injured or killed.
Mr Lloyd said the cost of the Cregan convoy was "ridiculously expensive".
'Crazy money'
He said the National Offender Management Service had said it was "too expensive" to convert HMP Preston into a high-security facility.
Mr Lloyd added: "They came up with a crazy figure of £10m, which is simply pie in the sky. Their chief concern seemed to be that they didn't want to make the investment.
"So it appears that common sense can be scattered to the wind if you don't have to pick up the tab.
"In the end, of course, we've all had to pay for this operation because, although the Home Office have agreed to cover some of the costs, the taxpayer is still significantly out of pocket at a time when finances across the public sector are stretched so much."
Mr Lloyd said he would raise the issue again with the home secretary and justice secretary.
Lancashire's Police and Crime Commissioner, Clive Grunshaw, said policing the trial had cost Lancashire Police £2.375m, GMP £700,000, and the Home Office £2m.
A Prison Service spokesperson said: "Public protection is our number one priority and HMP Preston could not provide the high security needed for such a dangerous criminal.
"Not only would it potentially have put the public at risk - it would have cost millions of pounds and taken months to complete, further delaying bringing these despicable crimes before the courts."