Crook O' Lune bridge repairs halted by nesting birds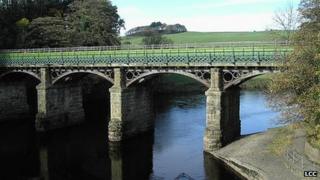 Work to repair a Grade II listed bridge across the River Lune in Lancashire has been halted because of nesting birds.
Repairs started on the pedestrian East Bridge at Crook O'Lune, which links Caton with the River Lune Millennium Park near Lancaster, in April.
Engineers preparing to demolish the old bridge deck found a blue tits' nest and four nests of jackdaws beneath it.
Lancashire County Council (LCC) said work should resume at the end of June when the birds' young have flown.
'Set an example'
Jim Robson, a LCC engineer working on the refurbishment, said the discovery was made when they prepared to remove the old deck, which was rotten.
He said it was "one of the many contingencies you meet when doing work like this".
Mr Robson said the delay should not be too long.
"The jackdaws are virtually fully fledged and almost ready to go," he said.
"The blue tits have a little longer to go. We're expecting them to be flying away in a week to 10 days."
He added: "Birds are protected by the Wildlife and Countryside Act and the county council as a responsible landowner wants to set an example as to how it deals with theses issues when it comes across them."
The bridge was closed in March 2011 after safety concerns.
The work, estimated to cost £1.5m, was scheduled to be completed by October but LCC said it may now be November.
The bridge carries the River Lune Cycleway and is a popular route for cyclists, walkers and horse riders.
It is one of three that cross the river at the Crook O'Lune.