Lytham and St Annes' World War II Spitfire: Plaque unveiled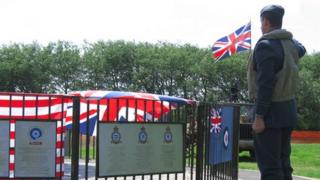 A plaque to commemorate how people in a Lancashire town funded a World War II Spitfire has been officially unveiled.
Residents of Lytham and St Anne's paid for a Spitfire in 1941 to boost the war effort but it was shot down a year later near Devon while being flown by Rochdale pilot Sgt Alan Lever-Ridings.
The plaque is part of the RAF Fighter and Bomber Command memorial near Fairhaven Lake, Lytham.
The memorial includes a replica of the plane that was installed in August.
Tribute
Volunteers from the Lytham St Annes Spitfire Display Team, who raised £40,000 to fund the model of the Spitfire, unveiled the commemorative plaque.
A tribute was also made to the US 8th Army Air Force, which was based at nearby Warton between 1942 and 1945, in a ceremony earlier.
Residents of Lytham and St Annes raised £6,500 to buy Spitfire W3644 in 1941, but it was downed off the Devon coast while returning from escorting bombers over France a year later.
Volunteer John Coombes said residents were "especially touched" when the aircraft was shot down as its pilot Sgt Lever-Ridings had family connections with the area, as his mother and grandparents lived in St Annes.
The 9m (30ft) long replica of the aircraft at the memorial is suspended on a plinth and pole.