Crook O'Lune bridge repairs start again as birds fly nest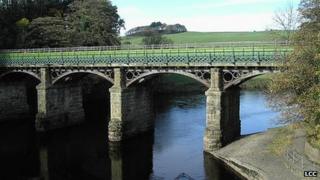 Restoration work on a Grade II listed bridge across the River Lune in north Lancashire has restarted after being delayed because of nesting birds.
Repairs started on the pedestrian East Bridge at Crook O'Lune, which links Caton with the River Lune Millennium Park near Lancaster, in April.
Engineers preparing to demolish the old bridge deck found a blue tits' nest and four nests of jackdaws beneath it.
The birds have now flown their nests, the county council said.
Work stopped at the beginning of June but will restart on 24 June.
The bridge was closed in March 2011 after safety concerns.
It carries the River Lune Cycleway and is a popular route for cyclists, walkers and horse riders.