RSPB attacks Ribble seagull cull amid BAE bird strike fears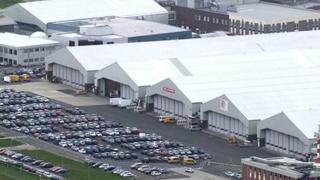 The government has given the go-ahead to cull thousands of seabirds in the Ribble Estuary because of safety fears at a nearby airfield.
But The Royal Society for the Protection of Birds (RSPB) says the decision is a "dangerous precedent".
The Department for Environment, Food and Rural Affairs (Defra) ruled after hearing concerns from BAE Systems.
The aerospace firm is concerned about birds getting sucked into the engines of jets taking off at its Warton site.
Defra has said up to 1,000 herring gulls and 1,000 lesser black-backed gulls can be destroyed on Bank Marsh.
Andrew Dodd, of the RSPB, said his organisation understood BAE's safety concerns about the breeding gulls in the Ribble Estuary, which is a Special Protection Area (SPA).
But he added: "We are concerned about what this decision means for other SPAs such as Morecambe Bay or Martin Mere.
"It is a dangerous precedent."
'Bird strike'
Mr Dodd said RSPB disagreed with Defra's idea that a quarter of a protected site's breeding bird population can be lost without damaging the site's conservation value.
He added that the RSPB was "considering its options" on how to respond.
A Defra spokesperson said: "After careful consideration we have taken the decision to allow a limited number of gulls to be controlled that are impacting on air safety."
She said human life in this case was more important than wildlife and denied birds in other SPAs were at risk.
"Each situation has to be judged on a case-by-case basis," she said.
A BAE statement said: "The population of herring gulls on the Ribble Estuary presents a risk of bird strike to aircraft operating from Warton airfield.
"BAE Systems has sought to reduce this risk."