Fleetwood Memorial Park awarded £2.4m of lottery cash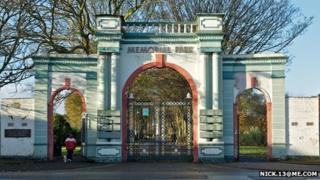 A memorial park in Lancashire has been awarded £2.4m of lottery cash for restoration work.
Fleetwood Memorial Park, a Grade II-listed park, secured funding from the Heritage Lottery Fund and Big Lottery Fund for the work.
The park, built in 1925 to commemorate World War I, is one of only four listed memorial parks in the country.
Les Fletcher, of Friends of Memorial Park, said the funding would enable it to return to its former glory.
'Full potential'
The park's gardens were designed and built by town planner Sir Patrick Abercrombie.
Wyre Council said the money would be used to carry out "comprehensive restoration" on the park including the war memorial, entrances, pond, pathways and pavilion, expand the sports facilities and a programme of community activities to celebrate the park and Fleetwood's heritage.
Councillor Lynne Bowen, cabinet member with responsibility for parks at Wyre Council, said: "The decision reflects the historical significance of the park and it is fitting that we will be undertaking this work during the First World War centenary."
"Memorial Park has been at the heart of Fleetwood's community for almost one hundred years and we can now safeguard its future for the enjoyment of generations to come."
Mr Fletcher, chairman of the Friends of Memorial Park, said: "I remember how lovely and well used the park was when I was a child, 60 years ago, but I've seen it change over the years to become a thoroughfare rather than a destination.
"I'll be delighted to see it restored to its former glory and reaching its full potential."
Wyre Council said work was due to start on the pavilion, which will become a community hub, in January and hope it will be completed by spring 2015.