Police seize £136,000 of cannabis in Blackburn 'crackdown'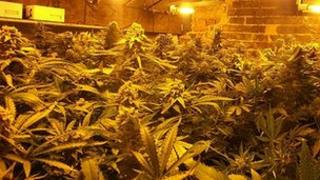 A "crackdown" on cannabis production in Blackburn has seen drugs with an estimated street value of £136,000 seized in raids, police have said.
Raids have been carried out in Fawcett Close, New Wellington Street, Bolton Road, Young Street and Leach Street.
A spokesman said 340 plants and bags of drugs ready for sale were found.
A 42-year-old man has been charged with permitting production on premises of a Class B drug and a 24-year-old man cautioned for cannabis possession.
A Lancashire Constabulary spokesman said the investigation "to find out who was behind the set up is ongoing".
The latest raid, on Monday, was as the result of a "community tip-off", he said.
Sgt Conrad Tapp said residents in the raided streets had told police that "drug dealing, crime and antisocial behaviour are issues affecting their community".
"We have listened to the concerns and this crackdown is part of our response," he said.