Experts tell council to reject Blackpool prom revamp reverse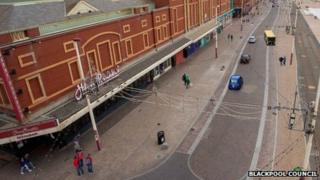 Experts studying a revamp of Blackpool promenade carried out two years ago have said the changes should be kept.
Consultants Ove Arup Partners Ltd said changing the prom again would be a "retrograde" step after studying five options outlined by the council.
The 600m stretch in front of the resort's tower has been blamed for causing congestion.
Councillors have asked residents to consider the options which range in cost from £900,000 to £2.7m.
The renovation in 2011 saw a "shared space" for cars, pedestrians and trams on the promenade with the removal of kerbstones.
A public consultation period ended on 31 May and councillors will discuss the consultant's report at the executive meeting on 15 July.
'Safe prom'
"The scheme provides a safe and attractive pedestrian environment which is befitting of the prominent location within the town centre and provides an appropriate public realm for a busy pedestrian and tourist destination," said the Ove Arup report.
"Although busy, the traffic volumes are not considered to be excessive and the queues observed on site were relatively modest," it added.
The report said "issues relating to congestion are anecdotal" and stated: "The other options put forward are considered to be retrograde steps that would revert to a more traffic-dominated space."
The first option, which is favoured by Ove Arup, would just see repairs carried out on the carriageway as needed and no restoration of the zebra crossing which was removed earlier in the year.
The other four options include variations on replacing the road surface with asphalt, raising the kerbs, the installation of guard rails and the restoration of two lanes of traffic each way.
In March local MP Paul Maynard asked residents to send him photos of area of notorious traffic congestion in the town including the section near the tower.
Blind people complained following the revamp about the risk caused by a lack of kerbstones.