Harold Larwood: Blackpool park named after cricket legend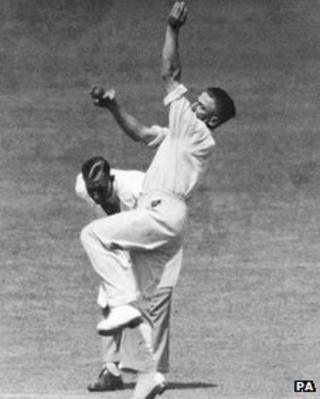 A park which stands on the site of a sweet shop owned by Ashes hero Harold Larwood is to be named after the former England cricketer.
Residents in Blackpool voted to name the park in Victory Road, after the man, who terrorised Australian batsman in the 1932-33 "Bodyline" series.
It was a successful end to a campaign by Roy Freeman and John Bradshaw, who used to visit Larwood's shop.
A council spokeswoman said it would be discussing a park sign with the pair.
She said the park had never had a name since it was built.
"These men contacted the council and it was decided to let local people vote on the idea at the Talbot and Brunswick Area Forum," the spokeswoman added.
"We will be meeting with Mr Freeman and Mr Bradshaw to discuss putting a sign up."
Larwood was the spearhead of England's attack in the series bowling fast, accurate, short pitched deliveries at the batsman, which was nicknamed "Bodyline".
The Australian cricket authorities complained of unsporting behaviour and the row even reached governmental level.
Larwood played for Blackpool Cricket Club in 1939 after the end of his first class cricket career with Nottinghamshire.
He bought a sweet shop in Caunce Street, on the corner of Victory Road, in 1946 before emigrating to Australia in 1950.