Killed teenager Sasha Marsden stabbed 58 times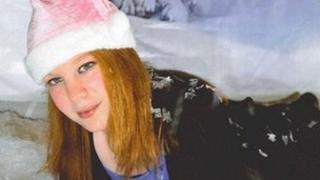 A 16-year-old girl was stabbed 58 times by a "sexually-motivated" killer who lured her to a hotel with a false job offer, a jury heard.
Sasha Marsden's injuries were so severe she could only be identified by DNA from her toothbrush, Preston Crown Court was told.
David Minto, 23, from Blackpool, denies murdering the childcare student.
He is alleged to have sexually assaulted and stabbed the student in the head and neck with a kitchen knife.
Mr Minto is said to have removed her partially clothed body from Grafton House Hotel, Kirby Road, Blackpool, wrapped it in carpet underlay, a black bin liner and bedding.
He is accused of then setting her body alight behind the building.
'Ferocious struggle'
Peter Wright QC, prosecuting, said the knife wounds were "deep and penetrating", with 48 of the wounds mainly to the back of the head.
He said: "There were a large number of wounds to her fingers, hands and forearms which were entirely consistent with what are known as defence wounds.
"In other words Sasha had struggled ferociously with her assailant in a vain effort to save her own life."
Police initially thought a mannequin had been set ablaze when they arrived at the alley on the evening of 31 January, before realising it was a body.
Mr Minto was arrested shortly after and went on to tell "a series of lies" to hide his involvement the prosecutor said.
The teenager's blood was found on Mr Minto's clothes, throughout the Grafton Hotel and on the murder weapon.
'Killer's lies'
Her blood-stained top, pink and white training boots, pink purse and mobile phone were found in a waste bin in the rear alleyway.
The phone had been dismantled and the battery removed, the court heard.
Mr Wright said Mr Minto claimed in a prepared statement that Ms Marsden "had thrown herself at him... and he accepted that sexual contact had taken place between them.
"He went on to say that she carried on cleaning and that she had then had a severe nosebleed while kneeling down in the hallway. She told him this happened a lot."
When told that the body discovered in the alley could be Ms Marsden, Mr Minto told police: "If this was Sasha then I'm shocked and very saddened."
Mr Wright told the jury: "We say nothing could be further from the truth. The truth was that this was a sexually motivated murder of a young girl by this young man in the confines of a hotel when she was alone and vulnerable."
The trial continues.