Blackpool Council decides against prom revamp reverse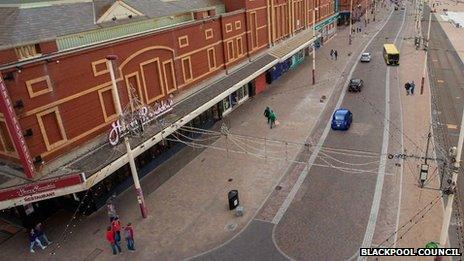 Blackpool Council has decided against further changes to part of the promenade landscaped two years ago.
The council's executive had asked residents to consider five possible options for the prom but the public consultation was "inconclusive".
A £6,000 study by Consultants Ove Arup Partners Ltd said changing the prom was a "retrograde" step.
The 600m stretch in front of the resort's tower has been blamed for causing congestion.
Councillors asked residents to consider the options which ranged from £900,000 to £2.7m - any cash spent on changing the road scheme would have been taken from other proposed projects in the town including road repairs, residents' parking schemes and improvement to the cycle network.
The executive decided on Monday evening to go for Option One which kept the current arrangement with repairs being done as and when needed.
Councillor John Jones, cabinet member for highways and transport, said it decided against re-ordering the prom because it would have meant cancelling road repairs in other parts of the resort.
He also cited the lack of a conclusive outcome to the consultation and the report by engineering consultants Ove Arup.
He added: "We do not think the upheaval that would come with major structural changes would be helpful to commuters, business, pedestrians or anyone else.
"I would point out that we have already made major changes to the promenade in terms of removing zebra crossings, repairing the surface and trialling different light schemes which have already improved traffic flows."
The renovation in 2011 saw a "shared space" for cars, pedestrians and trams on the promenade with the removal of kerbstones.
In March local MP Paul Maynard asked residents to send him photos of area of notorious traffic congestion in the town including the section near the tower.
Blind people complained following the revamp about the risk caused by a lack of kerbstones.
Related Internet Links
The BBC is not responsible for the content of external sites.