Keogh report: Jack Straw backs East Lancashire hospital changes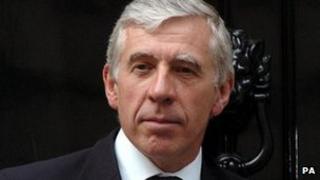 Blackburn MP Jack Straw says a critical report of the town's hospital is "an opportunity" to put things right.
Hospitals in East Lancashire were among 14 visited by a panel led by NHS England's medical director Prof Sir Bruce Keogh.
The trust, which runs the Royal Blackburn and Burnley General hospitals, was placed in special measures following his report.
Mr Straw said he had "had a sense" that there were problems in Blackburn.
The Labour MP added that "things have been getting better" but had not improved "as much as they should have done".
The trust is one of 11 to be placed in special measures.
It was criticised for poor governance, inadequate staffing levels at weekends and for staff "talking down" to patients and their families when they voiced concerns.
'Very sad'
Sir Bruce's report said the trust's complaints process was "poor and lacking a compassionate approach".
East Lancashire Hospitals' medical director Rineke Schram said the report was "very disappointing and very sad".
She added: "We do regret where we've got things wrong. We need to learn from them and get it better in the future."
Sharon Kinlin-Martin's mother died after being treated at the Royal Blackburn Hospital two years ago.
She said her elderly mother Joan was admitted in good spirits after a minor fall, but claimed her mother was left unsupervised at the hospital and fell repeatedly.
Mrs Kinlin-Martin said her mother's mental state also declined during her stay in Blackburn.
She believes her mother was unable to look after herself when she was discharged five weeks later.
Her mother was re-admitted after another fall and her condition deteriorated.
Mrs Kinlin-Martin is waiting for the outcome of a report by the health service ombudsman into her mother's care, but welcomed the special measures move.
"I really hope that it delivers a consistent level of care that the people there deserve," she said.
In a statement, the East Lancashire Hospitals NHS Trust said they could not comment on the case as the investigation is continuing.
"Further detail would put the trust at risk of prejudice to the ombudsman's enquiry," it said.