Blackpool dog attack victims 'feared they would die'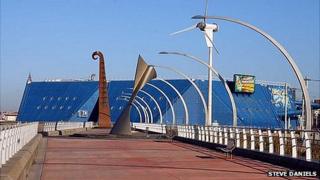 A woman who saw her friend savaged by an out of control dog said she feared for their lives.
Lesley Wilson, 54, needed two operations, including a skin graft, after an angler's dog mauled her leg on Blackpool promenade.
"It all happened so quickly we couldn't defend ourselves," said her friend Shobna Akhtar, 27, who was bitten on the arm in the attack.
The dog's owner put it back on the lead before running away.
Detectives released details on Thursday about the attack which took place on 8 July near to the sea wall in the south of the resort.
The pair, who are both deaf, were walking past The Sandcastle water park when the dog charged at them.
Ms Wilson, is still in the Royal Preston Hospital and is unable to walk, while Ms Akhtar has to get her wound dressed daily.
"It seemed like it wanted to attack, I panicked because I am scared of dogs and went behind Lesley," said Ms Akhtar, from Blackburn.
"It bit her leg and she screamed and fell to the floor.
"I slipped and the dog came up to me so I put my arm in front of my face - it all happened so quickly we couldn't defend ourselves."
Ms Akthar also said: "Two lads came along and put it back on the lead and just left us to bleed.
"I thought we were going to die".
'Angry'
Ms Akhtar praised passers-by who spotted them.
"If it wasn't for them we wouldn't be at hospital as we would have been stuck and struggling as we are both deaf."
"We are both angry - why was the dog not on a lead?" she added.
The dog is thought to have belonged to two men fishing nearby. Its owner ran off towards The Pleasure Beach.
It is believed to be a young Staffordshire bull terrier or pit bull type dog, very dark brown or black with a white stripe on its head leading from its nose onto the top of its head.