Man and dog rescued from water by Blackpool's North Pier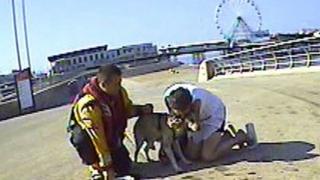 A man and a dog who got into difficulty in water and algae near Blackpool's North Pier have been rescued by beach patrol and a lifeboat crew.
Blackpool RNLI said a woman was walking two dogs at about 08:45 BST on Friday when one of the dogs escaped its lead and got stuck near the sea wall.
A passer-by went after the dog but he also got trapped.
Off-duty chief of beach patrol Rick Williams heard his cries and rescued him with a life belt.
A lifeboat crew then rescued the dog.
'Terrible tragedies'
Paul Parton, manager of Blackpool RNLI station said it was lucky Mr Williams had come in early to do some work and was able to help.
Mr Parton said Nathan Lee, one of Blackpool's RNLI volunteers, swam to the aid of the terrier cross and helped him into the lifeboat.
He said: "It is very dangerous near the sea wall where it happened.
"We have had some terrible tragedies near there but fortunately the weather was kindly and it all turned out OK on this occasion."
In 2005 not far from the scene of the rescue, two 16 year old boys, Alex Kazimir Yorke and Oliver Harve, drowned trying to rescue Oliver's border collie.
Three Lancashire police officers also drowned trying to rescue a Scottish holidaymaker who perished trying to save his pet dog in 1983.
In June a statue honouring Blackpool's emergency services was unveiled in memory of the three police officers.
The statue, called 999, is situated on the seafront close to the spot at Jubilee Gardens where the officers died.