Tram Sunday: Thousands in Fleetwood for transport festival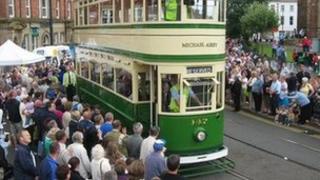 Thousands of people have been in Fleetwood for the annual festival of transport.
The event, known as Tram Sunday, started in 1985 to mark the centenary of Blackpool Tramway.
Organiser Robert Brown said around 200 vehicles ranging from stream trucks and fire engines to vintage cars were on show at the festival.
Mr Brown said there were a variety of new items this year but the main attraction was the heritage trams.
He said: "Blackpool Transport have provided four trams, two will be static display and two will be open-top trams offering trips to Cleveleys and back."