Ex-council leader denies 'scuffle' with Lib Dem leader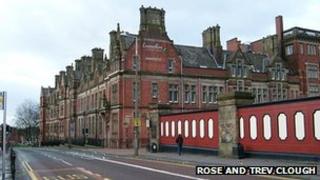 The former leader of Lancashire County Council has denied claims that he was physically aggressive towards the Liberal Democrat leader.
Conservative leader Geoff Driver is alleged to have become angry and physical as he tried to grab some papers from Bill Winlow.
It is said to have happened after the breakdown of talks between the two parties during negotiations after the council elections in May.
The county council is investigating.
Mr Driver strongly denied the claims, describing them as "a pack of lies".
Mr Winlow said he had sent an email to the county solicitor outlining his version of the events.
A Lancashire County Council spokesman said: "I can confirm that a complaint has been made alleging a breach of the council's code of conduct.
"This will now be investigated in accordance with the council's agreed procedures."
The meeting took place in the Liberal Democrat office at County Hall on 21 May to try and reach an agreement to form an administration.
The two party leaders were trying to negotiate a deal between the Liberal Democrats and the Conservatives after the election on 6 May left no party in control.
After more than two weeks Labour and the Liberal Democrats formed an administration to run the county council, which is now led by Labour's Jennifer Mein.