David Minto jailed for Sasha Marsden murder in Blackpool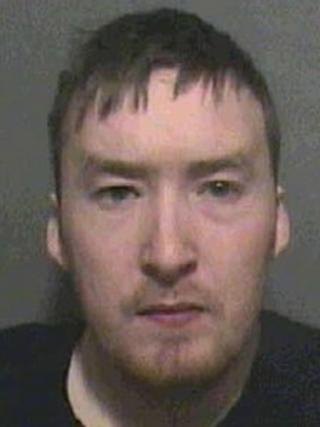 A man has been jailed for life for the "sexually motivated" murder of a teenage girl he stabbed 58 times and set on fire in Blackpool.
David Minto, 23, from the town, lured Sasha Marsden to her death on the false promise of a job in his girlfriend's hotel, Preston Crown Court heard.
Minto, who had denied murder, sexually assaulted and stabbed the 16-year-old in the head and neck.
Her family wept as he was told he would serve a minimum of 35 years in prison.
Minto dumped her body, wrapped in a bin liner and carpet underlay, in an alleyway near the Grafton House Hotel, Kirby Road, on 31 January.
The injuries inflicted on the teenager, from Staining, near Blackpool, were so severe that she had to be identified by DNA from her toothbrush.
'Most brutal'
The court heard Minto had met Sasha through a mutual friend on a night out in Blackpool last year.
In late January he contacted Sasha online asking if she was interested in a part time job at the Grafton House Hotel, even though he had no authority to do so.
But when she went to the hotel he launched a vicious attack on the girl.
The teenager's blood was found on Minto's clothes, throughout the hotel and on the murder weapon.
Judge Anthony Russell QC, sentencing, described it as a "ferocious and sustained attack", with "overwhelming evidence" against Minto.
The judge said: "Sasha Marsden was an attractive 16-year-old girl with the prospect of a happy and successful life ahead of her.
"You have have not only destroyed the life of one human being in a most brutal way, but your cruelty has devastated her loving parents, family and friends.
"There is not a shred of common humanity in you".
'Lured to her death'
A statement from Sasha's family given to the judge said each wound Minto inflicted upon Sasha had "stabbed at the heart of each and every one of her family".
It continued: "These things will haunt us for the rest of our lives."
Lancashire Police described it as "one of the most horrific cases" they had encountered.
Det Supt Andy Murphy said: "I believe that Minto is a calculated killer. His actions were premeditated and evil. He lured Sasha to her death by promising her work at the hotel.
"She placed her trust in him thinking that she could earn a few pounds to help support her through college.
"Instead, she ended up in the hands of her killer."