Sasha Marsden murder: Parents came face-to-face with killer David Minto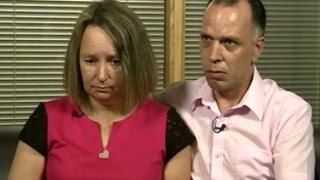 The parents of murdered Blackpool teenager Sasha Marsden came face-to-face with her killer hours after she was brutally murdered.
When she failed to return home on 31 January, Jayne and Gary Marsden went to the Grafton House Hotel on Kirby Road where Sasha had been offered a part-time cleaning job.
David Minto answered the door and coldly lied about her whereabouts.
They had no idea that the man they were talking to had earlier killed Sasha in a frenzied knife attack and her mutilated body was lying only yards away.
"We went down to the hotel and he said she had left," said Mrs Marsden.
"[Sasha's boyfriend] Danny tried to call and message people, but nobody had seen her. I contacted the hospital, nobody had seen her."
Hours later, Sasha's partially clothed body was found in an alleyway behind the hotel wrapped in carpet underlay, bin liner and bedding.
Minto had sexually assaulted the 16-year-old before stabbing her 58 times, in what police described as "one of the most horrific cases" they have come across.
Preston Crown Court was told her injuries were so severe she could only be identified by DNA taken from her toothbrush.
Minto had also tried to set her body on fire, in an attempt to destroy any evidence.
However, the teenager's blood was found on Minto's clothes, throughout the Grafton House Hotel and on the murder weapon.
Sasha's last words
Minto, 23, was living at the hotel run by his girlfriend's mother, Susan Butterworth.
She said: "There are many days when we sit down as a family and we cry and we go through all the whys and wherefores.
"But it doesn't matter how hard it's ever been for us, it'll never be as hard as it is for them. And I don't know if they can ever forgive us."
Minto contacted Sasha online days before the murder asking if she was interested in a part time job, even though he had no authority to do so.
Mrs Marsden said: "She had spoken to me on the Sunday regarding a job at the hotel, and I had me concerns with her being a young girl.
"As Sasha's parents her safety was our main priority - we always picked her up and dropped her off everywhere to make sure she was safe.
"With everything going OK on the Monday we didn't have any concerns for the Thursday and Sasha was quite comfortable to go back."
Mrs Marsden last saw Sasha on Thursday morning when she left for Blackpool and The Fylde College, where she was studying childcare.
"'Love, you, see you later' - that's the last thing Sasha said to me and what I said to her," she said.
Sasha, a "typical teenager who loved socialising", had met Minto through a mutual friend on a night out in Blackpool towards the end of 2012, the court heard.
Mrs Marsden said: "It's something that happens to somebody else, it doesn't happen to you. I wouldn't wish it to happen to anybody else either. I'm still really angry.
"She was our life - our youngest child, the only one still left at home. Everything we did revolved around Sasha.
"For his sexual gratification, he has robbed us of everything, I could never forgive him."
Blackpool and The Fylde College have named an annual award in Sasha's memory.