Chorley Mormon Temple hosts pageant to mark anniversary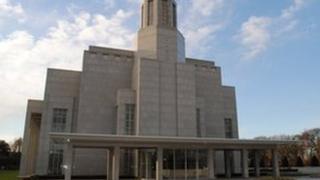 Thousands are expected to attend a religious pageant marking the 175th anniversary of the Church of Jesus Christ of Latter-day Saints in Britain.
The festival begins on Wednesday night and runs until 10 August at the Mormon Temple, Chorley.
Nightly evening performances will include a cast of about 300 and depict the faith's historical connections in England and overseas.
A marquee with a capacity of 1,500 people will host free performances.
'Huge undertaking'
Dr James Holt, from the Church of Jesus Christ of Latter-day Saints, said the event was the first of its kind in Europe.
He said: "The core cast has been called after a month of auditions, original music has been written. This will be a huge undertaking and it is hoped that all people will benefit from experiencing the pageant".
He added: "It will follow a similar format to already established American pageants but will focus on the history of the church in the British Isles."
The Lancashire site was selected as the first Mormon missionaries in Britain first preached in Preston, organisers said.
Pageants are a tradition of the Mormon faith and typically include a mixture of hymns, drama and dancing.
As of January 2013, about 190,000 members of the Church of Jesus Christ of Latter-day Saints lived in the UK, with 14.7m members worldwide.