Leyland-made World War II fire engine goes on show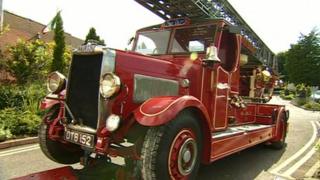 A landmark to celebrate the transport heritage of Lancashire town of Leyland has been officially unveiled.
A 1938 fire engine made by Leyland Motors is now on permanent show in a giant glass box on Leyland Way.
The fire engine was part of the national protection fleet in World War II serving Morecambe and Heysham.
South Ribble councillors looking for a landmark saw it for sale and persuaded businessman Martin Ainscough to buy it and donate it to go on display.
'World class engineering'
South Ribble Council, in partnership with the town's British Commercial Vehicle Museum, said it had installed the fire engine outside the Leyland Hotel close to M6 to give visitors a warm welcome into the town.
The fire engine was discovered by Tony White in storage in the North East. It ended up there after being replaced by a new model in the Morecambe area.
Mr White restored it then put it up for sale on eBay.
The six cylinder engine, which features steel Metz ladders which stretch more than 100ft (30m), has been been nicknamed Norma after Mr White's wife.
Mr Ainscough, who owns a construction firm, said: "The fire engine is a symbol of Leyland's world class engineering heritage and we are thrilled to bring Norma back to Leyland for everyone to enjoy."