Cyclists given Blackpool Illuminations preview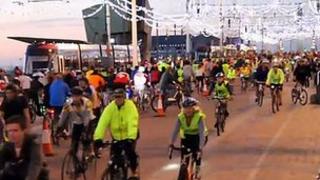 Cyclists have been given a preview of this year's Blackpool Illuminations as part of an annual riding event later.
Ride The Lights, which began in 2006, saw the promenade closed to traffic from 18:00 to 22:00 BST to allow riders to cycle through the attraction.
Marketing Blackpool's Natalie Wyatt said it was "always a delight to see people enjoying the lights in such an active and healthy way".
The lights will be switched on by TV presenter Jonathan Ross on Friday.
The ride runs along a four mile (6.4km) stretch of the promenade between Starr Gate and Bispham and is open to all, with the only requirement being that cyclists have a light at the front and back.
Marketing Blackpool encouraged participants to "dress up themselves and their bikes with as much bling and extra lighting as possible".
The official switch-on on Friday will be marked with a concert involving rock band The Script, pop singer Eliza Doolittle and local singer-songwriter Karima Francis.
It will be followed by a second gig on Saturday featuring ska band Madness and reggae star Little Roy.