St Annes Glendower Hotel gas failings firm fined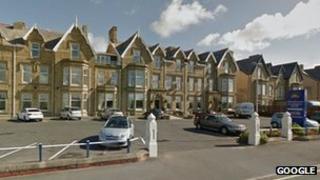 A Lancashire firm has been fined £20,000 and a manager given a suspended prison sentence for gas safety failings in boilers fitted at a St Annes hotel.
North West Mechanicals Ltd and David Hanmer were prosecuted over work at the Glendower Hotel, North Promenade.
The Health and Safety Executive (HSE) said guests lives were put at risk for almost two years.
Hanmer, 67, of Magdalen Road, Thornton-Cleveleys received two eight-week jail terms, suspended for 12 months.
The senior contracts manager was ordered to pay £8,976 costs by Blackpool magistrates, while the company must pay £11,247 in prosecution costs.
'Poisoning risk'
North West Mechanicals (NWML) was paid over £43,000 to replace the boilers at the hotel despite not being registered or having any qualified employees who could carry out the work, the HSE said.
Concerns were raised in March 2010 that the boilers had not been satisfactorily ventilated but the HSE said the company still issued a gas safety certificate to the hotel.
The failings were discovered in September 2011 when a registered gas engineer from another company carried out a routine service and immediately disconnected the boilers.
HSE inspector Stuart Kitchingman said: "Staff and guests at the hotel were put at risk of suffering carbon monoxide poisoning or being injured in a gas explosion because of the unsafe way in which NWML had installed the boilers.
"All gas engineers must, by law, be registered with Gas Safe to prove they are qualified to carry out work safely. NWML ignored this and put lives in danger as a result."