Calderstones NHS Trust: Abuse probe prompts care review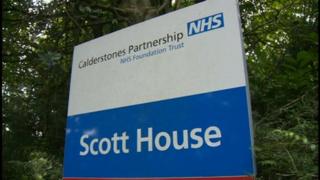 An investigation has been launched after a patient with learning difficulties was abused at a specialist NHS trust based in Lancashire.
Health regulator Monitor has written to the Care Quality Commission (CQC) urging it to review Calderstones NHS Foundation Trust's standards of care.
The trust began a review when it was alleged "excessive" force was used at a site in Greater Manchester.
Chief executive David Young said it has a "zero tolerance" policy on abuse.
The Ribble Valley-based trust started its own investigation after a whistle-blower complained about another staff member at its centre in Rochdale.
It was claimed "excessive" and "inappropriate" force was used when the male patient retaliated during therapeutic treatment at a low-security unit.
Risk of abuse
The trust said it would not reveal details of the incident due to patient confidentiality, but two out of five claims relating to the case were upheld.
Twelve members of staff were suspended. All have since been reinstated and retrained. The member of staff who abused the patient moved to another department.
The mother of the victim, who wished to remain anonymous, told the BBC she raised concerns several months ago.
She said: "The family were begging people to listen to us. My son has received dreadful treatment. I want him out as soon as possible."
Police investigated the abuse claim, which occurred six months ago, but no action was taken.
Monitor said it would look into whether there are wider problems with the way the trust is run, and if the risk of abuse could have been prevented or reduced.
Robert Davidson, regional director at Monitor, said: "The fact that this issue was not identified by the trust may indicate a failure in the way the trust is working, so we have opened a formal regulatory investigation and also asked the CQC to assess the quality of care provided by the trust as a priority.
"We want to make sure that patients are receiving the best possible standards of care, and we will look closely at how the trust is run to determine whether it has breached the conditions of its licence to provide NHS healthcare services."
Mr Young defended the trust's decision not to sack the member of staff.
He said three of the five issues raised by the safeguarding case conferences were either unsubstantiated or inconclusive.
"We take very seriously indeed this outstanding and isolated issue of abuse against a single service user," he said.
'Swift action'
"Calderstones has had consistently good reports and positive feedback from the CQC's inspections in recent years. On the rare occasions when things go wrong, we apologise, learn and put things right.
"This has been a difficult time for everyone involved and our thoughts and concerns are with the service user and their family.
He added staff at Calderstones work with "challenging" individuals who have mental health and learning difficulties. The majority of patients have criminal convictions.
"Their role is very demanding but the trust board has zero tolerance of any form of abuse or excessive actions in any circumstances.
"We acted very quickly to remove everyone who may have been involved in the incident and have worked very closely with the authorities through the investigation.
"Where there are recommendations for improvements that are not already in place we will be taking immediate action."
A CQC spokeswoman said it was fully aware of the allegations of abuse at Calderstones NHS Trust.
"Our priority is to ensure that patients are not at risk of harm and that care is safe and effective.
"Together with our partner agencies, CQC is deeply concerned about the outcome of the investigation and we will be taking swift action to follow up these concerns using our regulatory powers where appropriate."
Monitor said it would announce the outcome of its review once its investigation has concluded.