Blackpool Illuminations switch-on 'worst in 100 years'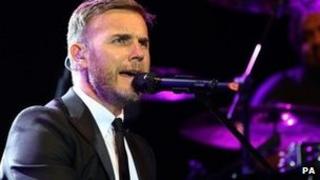 Blackpool's Illumination switch-on concert lost £372,000, organisers said.
The two-day event, which saw Gary Barlow step in at the last minute, was the first time visitors were charged.
Marketing Blackpool, part-funded by the Labour-led council, said it introduced a fee in the hope of making the event profitable within five years.
Blackpool Council's Tory leader, Tony Williams, said it was "the worst switch-on in 100 years". The council leader said it would review the event.
Mr Williams said: "Gary Barlow did a wonderful job of standing in at the last minute but the people didn't turn up and it was doomed from the start."
'Entertainment destination'
TV presenter Jonathan Ross flicked the switch to turn on the famous illuminations, which will shine for 73 nights until 10 November.
Expenditure for the event was £775,000 with income being £402,891, Marketing Blackpool said.
It said the deficit would be contained within its budget, although the cost to taxpayers for staging, production, marketing and road closures was £170,000.
Tickets for adults were priced at £34.
A Marketing Blackpool spokesman said the decision to charge was "to create an event for the future which is sustainable and not reliant on the public sector but also allows us to secure headline acts".
The spokesman added: "We appreciate that there will be questions relating to artist fees but due to confidentiality clauses we are not, for legal reasons, able to provide these."
Irish rockers The Script were due to play at Friday's concert but withdrew citing a "serious family illness".
Barlow then stepped in and asked organisers to make an undisclosed donation to Children in Need.
Simon Blackburn, leader of Blackpool Council, said: "I think Marketing Blackpool have made their position as clear as they possibly can at the moment and we will, of course, be sitting down with them to look at how things have gone and to talk about what we're going to do in future years."