Yates's Blackpool: £3m retail complex on fire-hit site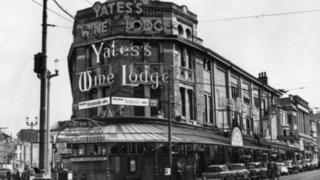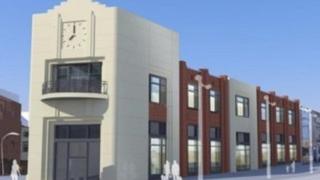 Work has started on a £3m redevelopment in the centre of Blackpool on the site of a former wine bar gutted by fire.
The former Yates's Wine Lodge on Talbot Square, close to the town hall, was destroyed in a blaze in February 2009.
The building - which had a rotunda more than 100 years old - was demolished and the site has been empty since.
Developers RECO Build, which will do the work, said it would turn the site considered as an eyesore into an "art deco style retail and leisure complex".
The Colne-based construction firm said the design of the three-storey complex would "reflect the heritage of the former site" and provide the resort with a "facelift" in time for the 2014 Illuminations.
It said it would create "scores" of permanent and temporary jobs.
Tenants lined up include TGI Friday's restaurant, Asian restaurant Cosmo and supermarket Tesco, the firm added.
More than 100 firefighters were needed to control the fire, which started in an alley between Clifton Street and Talbot Square on 15 February 2009.
Five other businesses, including a pet shop, were damaged in the blaze.
The case against a 21-year-old man who had confessed to burning down the building collapsed after scientific evidence proved he could not have been responsible.
Lancashire Police said the case was still open.