St Mary's fire: Pupils to be taught away from Leyland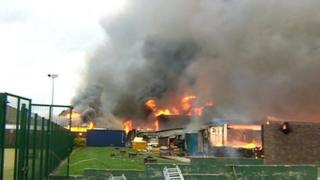 All pupils at a fire-damaged school in Lancashire are to be taught off site.
St Mary's Catholic Technology College in Leyland has decided a full move to a former high school will "allow more time to prepare" the fire-damaged site.
Initially, the plan was to divide the year groups between undamaged parts of the college and a former high school in Ribbleton Hall Drive, Preston.
Staff are planning to move some pupils back to St Mary's within a few weeks after a "deep clean".
From Monday, pupils will be taken to Ribbleton Hall Drive on a free bus from St Mary's.
'Rising from ashes'
Head teacher Kathryn McNicholas said: "In some ways, this is a blessing because it allows all our staff and pupils to come together on one site and support each other during these crucial early days.
"It must be remembered that a school is a community of people, not a building, and our community remains intact. "
All pupils will be taught at St Mary's from January 2014.
Councillor Matthew Tomlinson, cabinet member for children, young people and schools at Lancashire County Council, said: "Starting the autumn term in temporary digs because of a devastating fire is something that few pupils have to deal with, thankfully.
"I am sure they will continue to do well in their new home and then will have the chance to see their new buildings rising - literally - from the ashes."
Five boys, aged 11 to 15, were arrested on suspicion of arson and bailed.
The fire broke out two days before pupils were due to return to school for the new term.