Repairs to Leeds and Liverpool Canal towpath begin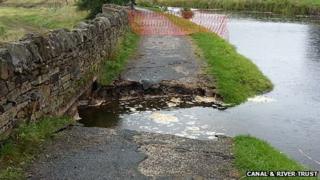 Work to repair a section of a towpath which was washed into a Lancashire river has started.
The £300,000 project, which will restore the Leeds and Liverpool Canal path at Rishton, near Blackburn, has been funded by the Canal & River Trust.
The work was necessary after the path was swept into the River Hyndburn earlier in September.
Waterway manager Chantelle Seaborn said she hoped the repairs would be completed by the end of November.
"The canal is extremely popular and we appreciate that this is a major disruption for people who enjoy the towpath," she said.
A trust spokesman said initial findings suggested erosion had caused "huge sink holes in the canal bed".
The work involves relining the canal bed and an adjoining culvert, alongside the towpath repair.
The repairs are expected to "extend its life for another 100 years", he added.