Lancashire PCC Clive Grunshaw's expenses face CPS scrutiny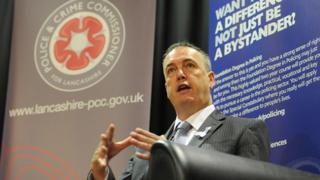 Expenses claims made by the Lancashire police and crime commissioner (PCC) in his former role, are to be investigated by the Crown Prosecution Service (CPS).
The claims under investigation were made when Clive Grunshaw was a county councillor and police authority member, before he became PCC in November.
The Independent Police Complaints Commission (IPCC) has been probing complaints by a former councillor.
The case has been referred to the CPS for a decision on whether to prosecute.
Labour PCC Mr Grunshaw denies wilfully submitting claims he knew to be untrue.
'Genuinely intentioned'
He has been suspended from the Labour Party pending the outcome of the CPS inquiry, a party spokesman said.
The investigation began following a freedom of information request by former Chorley South councillor, Conservative Sam Chapman.
He asked for details of mileage claims from when Mr Grunshaw attended meetings of the council and the police authority on the same days.
Mr Grunshaw said he would carry on in his PCC role "as normal" while awaiting the CPS's verdict.
He said: "I maintain that at no point did I wilfully submit claims which I knew to be untrue and every expense claim I did make was genuinely intentioned."
The IPCC said it had sent a full investigation report to the CPS for it to decide "whether there is evidence to warrant criminal charges".
The Office for the Police and Crime Commissioner (OPCC) said it was assisting the investigations.
Chief executive and solicitor Miranda Carruthers-Watt said: "While we await the decision of the CPS we will continue to support the commissioner in carrying out his statutory duties, and we look forward to a swift conclusion to this matter."