Frontierland: Plan for £17m development of theme park site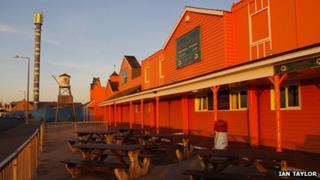 Up to 500 jobs could be created if plans to redevelop an eight-acre derelict theme park in north Lancashire are given the go-ahead, developers say.
The former Frontierland theme park in Morecambe has been derelict since the fun park closed in 2000.
Plans for a £17m retail and leisure park, including a hotel and restaurant, have been drawn up by developers.
The plans will go on show at the Morecambe Superbowl before being submitted to the council.
David Kerr from Morecambe town council said the scheme "sounds very promising".
"We will all be very excited and keen to hear what's proposed," he said.
Frontierland was a major tourist attraction on Morecambe's seafront from 1987 until its closure in 2000.
Two previous schemes to redevelop the land have fallen through.