Malaria death: Lancashire woman Jayne Rowley dies in hospital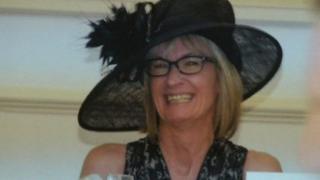 A Lancashire woman has died after contracting malaria on holiday in the west African country of The Gambia.
Jayne Rowley, from Lytham, died on Wednesday after suffering a seizure in Blackpool Victoria Hospital.
Her husband Martin is being treated for the condition in the hospital.
Dr Lisa Ford, of The Liverpool School of Tropical Medicine, said only two people died of the disease in the UK last year.
Mr Rowley, who owns a family business Carpets of Lytham, said he had been left "shell-shocked".
Speaking from the hospital, he said the couple regularly visited a holiday home in The Gambia, but had never taken anti-malaria tablets.
"We go back and forward a few times a year. We got complacent. I would recommend nobody does this as we have learnt by our mistake," he said.
'Flu symptoms'
Mr Rowley said he started with flu-like symptoms on 17 November and his wife started feeling ill two days later.
"The only way I can describe it is the worst case of flu you can experience.
"Whereas with flu the headaches get better, in this case they get worse and worse.
"It's like being hit by a sledgehammer every moment of the day," he said.
The following week they went to hospital and Mrs Rowley had a seizure and ended up in intensive care, he said.
He said he was warned on Tuesday his wife's condition would not improve and the following day every bodily function began to fail.
Dr Ford, who practises at the tropical medicine school's travel clinic and is a clinical adviser for the National Travel Health Network and Centre (NaTHNaC), said malaria was treatable with early diagnosis.
But she said people needed to take a full course of anti-malaria tablets as part of their travel arrangements to high-risk areas.
According to the Foreign and Commonwealth Office (FCO) The Gambia is a major tourist destination for British tourists with more than 60,000 visitors a year accounting for 60% of its tourists.
It is described as a high-risk area for malaria by NaTHNaC.