Schoolboy, 13, creates nuclear fusion in Penwortham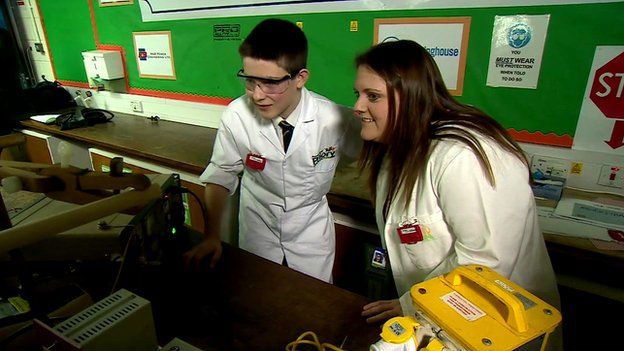 A 13-year-old Lancashire schoolboy has become one of the youngest people in the world to carry out nuclear fusion.
Jamie Edwards, a pupil at Penwortham Priory Academy, created the project from scratch with help from his school.
"I can't quite believe it - even though all my friends think I am mad," he said.
The last record holder was US student Taylor Wilson, who was 14 when he created nuclear fusion in 2008.
Jamie, who started work in October in an under-used school science laboratory, recreated a process known as 'inertial electrostatic confinement' which dates back to the 1960s.
"One day, I was looking on the internet for radiation or other aspects of nuclear energy and I came across Taylor Wilson," said the junior scientist who faced a race against time to complete the project before his 14th birthday on Sunday.
"I looked at it, thought 'that looks cool' and decided to have a go."
"You see this purple ball of plasma - basically it's like a star in a jar," he added.
Jamie, along with friend George Barker, set about trying to create nuclear fusion by consulting an open source website for amateur physicists.
His application for funds was rejected by various nuclear laboratories and universities.
"They didn't seem to take me seriously as it was hard to believe a 13-year-old would do something like that so I went to my head teacher Mr Hourigan in October," he said.
"I was a bit stunned and I have to say a little nervous when Jamie suggested this but he reassured me he wouldn't blow the school up," said Priory head Jim Hourigan, who agreed to give £2,000 to the project.
Jamie ordered parts and equipment from Lithuania, the US and UK, working on the project every break and lunchtime as well as after school.
Related Internet Links
The BBC is not responsible for the content of external sites.