Fleetwood awarded £1.5m for seafront regeneration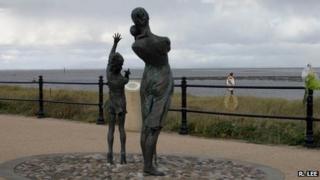 Fleetwood coastline is to be redeveloped after the council received more than £1.5m from the Big Lottery's Coastal Communities Fund.
Wyre Borough Council will use the money to regenerate the seafront with new sculptures and renovate existing features.
More than 50 projects across the UK are being awarded a share of £27.7m.
Councillor Gordon McCann said: "We hope it will encourage people into Fleetwood."
Hugh Evans, of the North and Western Lancashire Chamber of Commerce, said the funding would "provide a much needed boost to local businesses".
"Fleetwood has seen more than its fair share of economic decline in recent years and this funding will provide the catalyst to deliver something special that puts the town back on the road to recovery," he added.