Mother allows dead son's car to be used for drink drive prevention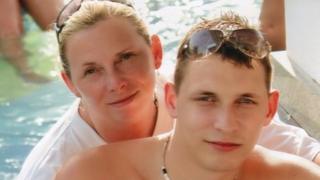 The wreckage of a car in which a man from Lancashire was killed is on display for a campaign, backed by his mother, to prevent further drink driving related deaths.
Daniel Birch, 23, from Coppull, was three times over the limit when he died in March 2012.
His mother, Helen Birch, is backing the council and emergency services' Almost Home campaign.
The car wreckage is on display at Tesco Chorley and Tesco Leyland on Sunday.
Almost Home was launched ahead of the two year anniversary of Mr Birch's death on 18 March, with the backing of his mother.
Ms Birch said: "Many young people naturally think they can take the risk and get away with it once.
"But... they haven't really thought through the potential consequences not just for them but everyone they know and love."
Sgt John Jennings-Wharton, of Lancashire Police, said: "We would like to thank Daniel's family who, after going through what they have, can still find the strength to stand up and fully support this campaign."