Nigel Evans trial: MP 'groped' man in Commons bar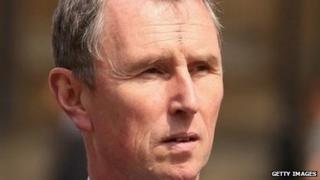 MP Nigel Evans groped a man while he was drinking in a House of Commons bar, a jury heard.
The complainant told Preston Crown Court Mr Evans "grabbed his genitals" while he drank with a group including MPs and another alleged victim.
Earlier, a Tory MP said he thought it "out of character" when he heard the allegations against Mr Evans.
Mr Evans, 56, denies one count of rape, two counts of indecent assault and six counts of sexual assault.
The former deputy speaker allegedly groped the complainant in the Strangers Bar around May 2010.
"We were chatting and Nigel reached out and grabbed my genitals, basically," the man told the court.
"I brushed it (his hand) away and said 'No, that's not cool'."
'Playing to the gallery'
Former Liberal Democrat MP Lembit Opik told the court of a "not very savoury" exchange with the complainant after he had bought a round of drinks.
Mr Opik said: "The gentleman in question... said something quite offensive because I had forgotten to get him a drink.
"I'm not a confrontational person. I did get him a drink, gave him his drink, stood around and rejoined my group."
Mr Opik added: "He was playing to the gallery."
Michael Fabricant, the Conservative Party vice-chairman, told the court he had first heard in 2009 claims that his "good friend" Mr Evans groped a young man while he slept on the sofa at the MP's home in Pendleton, Lancashire.
Mr Fabricant, a senior Conservative whip in 2009, said the Westminster worker spoke to Plaid Cymru MP Adam Price, who then called him.
Mr Fabricant told the jury: "I remember fairly well what he said, mainly because it seemed to me out of character for the Nigel Evans I knew."
'Drinking warning'
The jury heard the complainant also spoke to Iain Corby, managing director of Policy Research Unit, a Conservative research group.
Mr Corby said the complainant did not give "explicit detail", claiming Mr Evans "tried to get under the covers" with him as he slept.
He said he may have taken a "different view" had he been told Mr Evans had placed a hand inside the man's underwear.
Mr Corby added: "I hope I would have persuaded him that it should be taken to the police."
The allegation was discussed in a meeting with Patrick McLoughlin, chief whip at the time, the witness said.
Mr Corby said he gained the impression the complainant was "happy" once assured Evans would be asked to apologise and warned about his drinking.
'Out of the closet'
The jury heard that Patrick McLoughlin, who is now Transport Secretary, told the complainant it was a "big ask" for Mr Evans to resign over a "drunken pass".
Mr McLoughlin, MP for Derbyshire Dales, said: "I thought that was a huge demand given the nature of the complaint."
The MP said Mr Evans' sexuality was an "open secret" in Westminster but he had not come out publicly.
He said he believed Mr Evans' "repressed sexuality" may have contributed to the incident.
The trial continues.