New Asda supermarket in Chorley to 'create 400 jobs'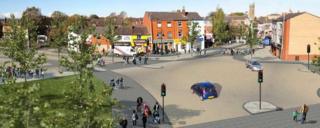 About 400 jobs are to be created by the opening of a new Asda in Chorley, Lancashire, the council has said.
A £1m improvement plan of the surrounding area in Market Street in the town centre has started in preparation of the store being built.
The area is to be made more pedestrian-friendly as the council strives to "spruce up the area and make it more appealing".
The store is due to open later this year, a spokesman said.
The roundabout near the development on the end of Market Street will be removed as part of the regeneration.
Councillor Alistair Bradley, Leader of Chorley Council said: "The highway enhancements include new trees and street furniture and will complement other projects that we have been implementing over the past twelve months, such as, shop-front improvements."