MP Nigel Evans speaks of 'hell' over rape and sex assault claims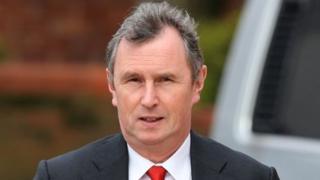 Former deputy speaker Nigel Evans' life has been "hell" since he was accused of sex offences against seven Westminster workers, a jury has heard.
The Ribble Valley MP told Preston Crown Court he had been left deeply ashamed and embarrassed by his arrest.
He denies one count of rape, two of indecent assault and six of sexual assault between 2002 and last year.
Earlier he admitted in court he made a pass at one of the complainants but said he did not sexually assault him.
'No fool like an old fool'
The 56-year-old told the court he thought the man in his 20s had been "incredibly flirtatious" and was interested in him.
The Conservative MP told the court he "misread the signals", adding: "There is no fool like an old fool."
The court heard he got under a blanket and started to cuddle the alleged victim as he slept on a sofa at the MP's home in Pendleton, Lancashire in 2009.
He said his hand drifted down the chest of the man and the man "exploded".
Mr Evans said he was then made to feel like "a chastened child" when it became clear his advances were unwelcome.
The alleged victim claims Mr Evans put his hand down his boxer shorts.
Questioned by his barrister, Peter Wright QC, about the allegations and his arrest, Mr Evans told the court the last 10 months had been "absolute hell".
He said: "To have yourself sullied in this way is awful.
"Nobody wants their private life brought up in this way. It's incredibly difficult."
The trial continues.