Kelbrook recycling firm fined over worker's broken arm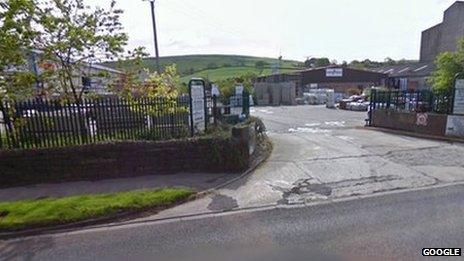 A recycling firm where a worker's arm was broken in several places when it was trapped in machinery with missing safety guards has been fined £23,000.
A roller caught the arm of a worker from Bolton-by-Bowland, Lancashire at Environmental Waste Recycling Ltd's site in Kelbrook and dragged it into a conveyor belt in August.
The Health and Safety Executive said it required extensive surgery to save it.
The firm admitted breaching health and safety laws at Preston Crown Court.
The Health and Safety Executive (HSE) which brought the prosecution said it took emergency services 90 minutes to free his arm from the machinery used to sort builders' waste and recyclable materials from skips delivered to the Eden Works plant.
He was flown by air ambulance to hospital and surgeons carried out extensive surgery to save his arm, said the HSE.
The HSE said the incident had had a "massive impact" on the 20-year-old's life including being unable to return to work.
An HSE investigation found essential guards were missing from the machine and the firm failed to carry out a proper risk assessment for workers.
The missing guards had been flagged up in two health and safety inspections of the plant in 2008 and 2010 but the company failed to take action, the HSE said.
As well as a £23,000 fine, the firm was ordered to pay costs of almost £3,700.
HSE inspector Stuart Kitchingman said after sentencing: "It's shocking Environmental Waste Recycling was first made aware of the missing guards by its own health and safety consultant nearly five years before the incident but it failed to act on this, even when the issue was highlighted again in 2010.
"Instead, it waited for an employee to be seriously injured before taking any action."
Related Internet Links
The BBC is not responsible for the content of external sites.