Blackburn Catholic school to become Anglican academy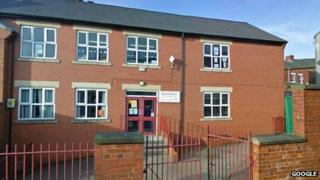 A Catholic primary school is to become a Church of England school because of falling numbers of Catholic pupils.
Sacred Heart RC Primary School in Lynwood Road, Blackburn, Lancashire, will become an Anglican academy, a spokesman for Blackburn Diocese said.
It will no longer come under the control of the council, and will be sponsored by the Cidari Trust, set up by the diocese to run academies.
Parents were informed by a letter from the governors on Wednesday.
Fred Kershaw, deputy director of education for the Diocese of Blackburn, said the Secretary of State for Education "has agreed to the process taking place".
The school is currently overseen by the Catholic Diocese of Salford.
'Different RE syllabus'
Canon Tony McBride, who is responsible for schools and colleges in the diocese, said the move had been "a complicated process" but was good news for the area.
"Over the past 10 or 15 years, gradually the numbers of Roman Catholic children has dwindled in this area of Blackburn. There's no demand in the Catholic community for Catholic schooling," he said.
"We welcome [the move] as it serves the particular needs of this part of Blackburn in a way Sacred Heart obviously didn't.
"They will have a slightly different RE syllabus, but the children won't see much of a difference."
The school said a decision had not been made on whether the school's name would change.
Sacred Heart has nearly 200 pupils, aged from four to 11.
Ofsted said it "requires improvement" following an inspection in December.