MP Nigel Evans trial: Position 'no licence' to sex assaults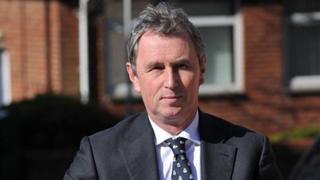 MP Nigel Evans' position as a deputy speaker did not give him licence to sexually touch people without their consent, a jury has heard.
Prosecutor Mark Heywood QC acknowledged more than 30 "eloquent references" in his closing speech at the MP's sex abuse trial at Preston Crown Court.
However, Mr Heywood told the jury: "They don't know what we know; they haven't heard all the evidence."
Mr Evans, 56, denies rape, two indecent assaults and six sexual assaults.
'Struggle with his sexuality'
The Ribble Valley MP is alleged to have committed the offences against seven young men between 2002 and last year.
Mr Heywood told the jury: "Sexual touching is unlawful without consent.
"It does not relate to who you are or what you have achieved. You do not gain licence from that position."
He said Mr Evans' character and achievements could be seen to be "a given" but a different picture of him had emerged in evidence.
The barrister said the MP's "struggle with his own sexuality" may have led him to commit indecent acts.
Preston Crown Court heard Mr Evans knew he was gay when he was elected as an MP in 1992 but did not reveal it publicly until 2010.
The MP has told the court from 2000 onwards he began to seek men for sexual relationships.
'Fun and charming'
Mr Heywood said: "Is it [the alleged abuse] perhaps born of a long life of service but obscuring a truth which he was reluctant to first admit and then to publicise?
"Was it simply that, at the start of those events, he was unable to do it as others had done and do, coming to it so late?"
He added: "Is that what lies behind some of this?"
Earlier, two Conservative MPs appeared in court to give evidence for the defence to testify to Mr Evans' character.
Northampton South MP Brian Binley said Mr Evans was a "good friend" and added he was "caring, gentle and considerate".
Col Bob Stewart MP for Beckenham said he had known Mr Evans for 20 years and described him as "fun", "charming" and "very good company".
The trial continues on Monday.