Blackpool council agrees to pay £4.7m for tram extension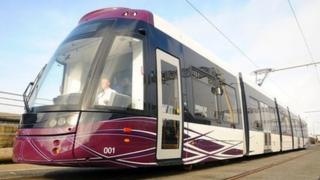 Funding for an £18.2m extension to Blackpool's tram system is in place after the town's council agreed to pay the remaining £4.7m towards the scheme.
Under the plans the tramway will be extended from the resort's North Pier to Blackpool North railway station.
The Department for Transport is providing £16.4m of the funding.
Councillor John Jones said: "It is part of our regeneration plans to attract people and businesses to Blackpool and making it the hub of the Fylde."
'Jump on a tram'
Mr Jones, cabinet member for highways and transport, said it tied in with a £220m transformation of the north of the town centre, opposite the train station, known as the Central Business District. It was originally called the Talbot Gateway.
He said: "This is part of our regeneration plans and hopefully will boost the economy.
"The new gateway is looking great and you get a real city feel there and if businesses move to Blackpool they want to see we are moving forward there and that the tram [work] is part of that.
"It will mean you can jump on a tram from Starr Gate and get to North Station and likewise from Fleetwood."
The council's executive committee agreed to fund a detailed business case for the project and 10% of the costs on Monday.
Mr Jones said producing the business case could take three years but work on the new track would take only six months.
A £100m upgrade of Blackpool's tramway finished last year.
A fleet of computerised trams replaced the old heritage Blackpool tramway to be extended vehicles, which continue to run for tourists in the resort.
The council offices will be moved to the Central Business District in June and Sainsbury's is due to open in July.