Forklift foot injury: Blackpool's Tangerine Confectionery fined £120K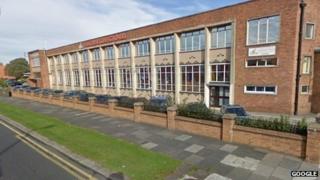 A sweet company has been fined £120,000 after a fork lift truck pierced a worker's foot.
Kevin Lowe, 48, was driving a pallet truck at Tangerine Confectionery's factory in Blackpool when he collided with the fork lift truck in 2012.
The Health and Safety Executive (HSE) said Mr Lowe's injury had left him unable to work, drive or walk far.
At Preston Crown Court the firm admitted failing to ensure the safety of an employee.
'Horrific injury'
The HSE said Mr Lowe was driving at the Vicarage Lane factory and manoeuvring close to the entrance because of a lack of space inside.
The driver of a fork lift truck drove through the plastic strip curtains, designed to keep out insects and birds, hanging over the entrance and the two vehicles collided, the HSE said.
It was described as one of three collisions at the site over a three-month period. Mr Lowe had been involved in one of them, suffering minor bruising.
On each occasion the drivers blamed reduced visibility through the curtains.
Speaking after the hearing, HSE inspector Michael Mullen said: "Mr Lowe suffered a horrific injury that will affect him for life because Tangerine Confectionery failed to implement effective traffic management."
He said workers had raised concerns about restricted vision and overcrowding but they were ignored.
The company, which was also ordered to pay £9,500 in costs, said it "deeply regretted" the accident and immediate action was taken to prevent future instances occurring at any of their sites.