Fans celebrate Burnley's promotion to Premier League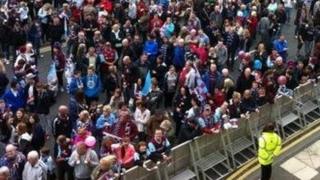 Thousands of fans lined the streets of Burnley for a parade to celebrate the team's promotion to the Premier League.
The players toured the town in an open top bus from a civic reception at Burnley Town Hall to the Turf Moor stadium.
Manager Sean Dyche and his players were welcomed by the crowds when the appeared on the town hall balcony.
The Clarets were promoted after they beat Championship side Wigan 2-0 at home last month.
Dyche said: "I've come to learn over my 18 months of being here how close the town is to the football club and how important that is.
"The team's given the people a marvellous day."