Fleetwood Town promotion celebrations announced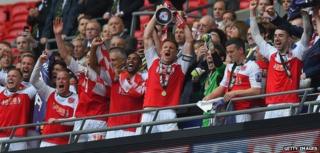 Plans for a celebration to mark Fleetwood Town's promotion to League One have been announced.
A club spokesman said a civic reception would take place at the Highbury Stadium from 13:30 BST on Saturday, with players and management present.
The event follows the team's 1-0 victory over Burton Albion in the League Two play-off final at Wembley on Monday.
Fleetwood have now won promotion in six of the past 10 seasons.
The celebrations coincide with a community event at the stadium, featuring football tournaments and performances from bands.
Phil Brown, vice-chairman of the club, said it was a "remarkable story" for the team.
He said: "We are a very small town, there's only 26,000 people in Fleetwood.
"On that basis, we are probably punching above our weight already, but with the right approach to anything you always will be competitive and we have a fantastic manager."
Peter Gibson, leader of Wyre Council, said: "It gives all the people in Fleetwood a lift, but it's also fantastic in terms of business.
"It will bring more and more people into the town to spend money, it's just great for everybody."