Fleetwood Town: Cod Army success promises cash boost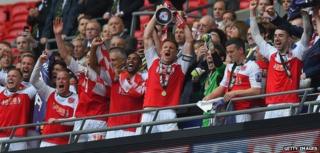 An incredible six promotions in 10 seasons has seen Fleetwood Town secure a place in football's record books - and the team's on-field success is now poised to take the town itself into a different league.
Only a decade ago the Cod Army were languishing five divisions below the football league, slogging it out in front of "crowds" as small as 80 people.
Today some 5,000 fans will pack Highbury Stadium for a civic reception to mark the players' latest dramatic promotion.
Monday's 1-0 victory over Burton Albion in the League Two play off final saw Fleetwood claim a place in the third tier of English football for the first time in its history.
But chairman Andy Pilley says the town's celebrations will extend beyond the club's league position.
'Feel-good factor'
Mr Pilley says the wider area will receive an economic promotion - with more supporters, more interest, more televised fixtures and ultimately more cash pouring into the Lancashire town.
"There's a huge feel-good factor around the place," said the chairman, who took over Fleetwood as a non-league club in 2003.
"The local economy is inevitably going to benefit. We are going to see a significant increase in supporters coming to Highbury, with the likes of Sheffield United, Coventry, Preston North End all bring large travelling crowds.
"They are going to need to eat, drink and find accommodation. There are a wide variety of businesses that will benefit."
Local publicans and hoteliers certainly agree.
Curtis Sandercock, a life-long Cod Army fan, works at the Strawberry Gardens pub, just five minutes away from the ground.
He said: "There'll be big teams coming and it will be different from Accrington Stanley bringing a couple of hundred.
"We are the main away supporters' pub and we should make a lot more money. It will be a big boost.
"It's just the whole town really. Before, you'd only see the odd person wearing a Fleetwood shirt. Now they're everywhere."
Katie Marsden, manager of the town's North Euston Hotel, said: "There will be a knock-on effect. We're very pleased. Many of the staff here are huge fans, and they're thrilled."
The stadium's capacity is another thing the club will be looking at in light of the team's repeated achievements.
Mr Pilley says he would like to see room for 8,000 fans - a considerable increase from Highbury's current capacity of 5,327.
Shirt sales are also expected to grow, as will revenue from TV deals and sponsorship money.
'No better feeling'
But the chairman says no amount of money can match the "joy" he has experienced from the game itself.
"There's no better feeling than a promotion," he said.
"When you can see the pleasure and the happiness it creates for people, it's just amazing.
"When the club was finally promoted to the football league, I looked over to the fans and there were tough lads there in tears.
"These are hardened old fishermen and blokes who've worked in the docks.
"It's something that will live with me forever."