Protest over jailed pigeon feeder from Morecambe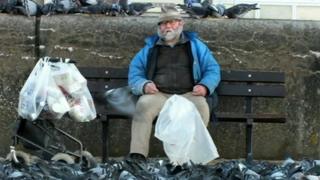 A protest has been held in support of a man jailed for continuing to feed pigeons in a Lancashire seaside town contrary to a community order.
John Wilkinson, from Morecambe, has repeatedly breached an order forbidding him from feeding birds in Morecambe.
Lancaster magistrates jailed him for six weeks on Tuesday.
Lancaster City Council said he had fed birds up to 40kg of bird seed a day for years and it had caused misery for Morecambe residents and businesses.
Suet cake
About 40 protesters turned out to campaign for Mr Wilkinson's release from prison.
Organiser Rita Patton, from Morecambe, who claimed 800 had signed a petition for him, said putting him in prison was wrong.
She said: "His mum used to do it and it was her dying wish he fed the birds.
"He has done wrong breaking his order but he's just doing what he believes in. I don't think prison is the right place for him."
Karen Leytham, who is in charge of environmental health at Lancaster City Council (LCC), said Mr Wilkinson's neighbours were "at the end of their tether".
"Numerous avenues have been explored over the years in an attempt to support Mr Wilkinson and help him change his behaviour."
As well as bird seed, Ms Leytham said Mr Wilkinson was giving the pigeons vast quantities of pizzas, pasta, and processed ready-meals which had the potential to attract rats.
She said he had ignored numerous warnings from the council and police so it applied for an anti-social behaviour order preventing excessive feeding of birds or feeding them anything other than bird seed in 2012.
He was given a four-week suspended prison sentence for breaching it in November.
In February, he breached the order by feeding birds suet cake.
He was given a six-week jail term by Lancaster City Magistrates' Court for wilful and persistent failure to comply with a community order.