Plane at Blackpool Airport evacuated after smoke spotted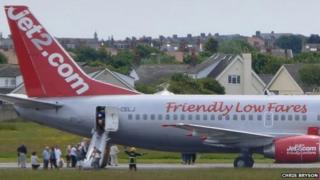 A plane at Blackpool Airport was evacuated after smoke was spotted coming from the brakes when landing.
The Jet2 airline confirmed the pilot of flight LS740 from Alicante in Spain was advised by air traffic control to evacuate after the smoke was seen.
Passengers of the Boeing 737-330, which landed at about 13:20 BST, used escape chutes to leave the plane.
Fire crews were sent to the scene. A spokesman for the airline said a full investigation was now under way.
He added the flight was evacuated as a "precautionary measure" and all passengers left the plane safely.